"All your children shall be taught of the LORD, and great shall be the peace of your children." Isaiah 54:13
We love our kids and want to make sure that they are learning the Bible for themselves, learning about prayer and developing in their own relationship with God. Young children stay with their parents for the first part of Praise and Worship and then are dismissed to their classrooms.
The older kids stay through all of worship and then are dismissed to their classrooms. The kids spaces are secure and all of the volunteers working with our kids have submitted a background check.
Our goal is to inspire, encourage and enlighten children by studying God's Word in an exciting and interactive manner.
Our children's ministry is led by Amanda Kistler. Amanda showed up to help clean during the construction phase of 3 Degrees in 2003 and never left. She joined the full-time staff as our Administrative Assistant in 2005. Amanda helps to coordinate every aspect of the ministry and is the current Children's Ministry Director.  Her love of craft projects and duct tape make her a favorite with the kids as she uses practical fun ways to bring home Bible truths. Amanda also participates on the prison ministry team.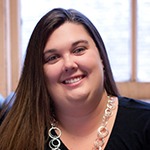 G.L.O.W
(Giving Little Ones the Word) – Ages 1 year thru 4 years
S.P.A.R.K
(Super, Powerful, Anointed, Righteous Kids) – Ages 5 years thru 7 years
B.L.A.S.T
(Boldly Living Awesome Spiritual Truths) – Ages 8 years thru 5th grade