Welcome to
3 DEGREES CHURCH
Thank you for taking the time to check out 3 Degrees.  We are a Spirit filled, Bible centered, non-denominational church located in the heart of Downtown Minneapolis in the Warehouse District.  No matter what you've experienced in your life or where you are at in your faith journey, you are welcome in our church.
You'll discover our atmosphere is comfortable, inviting, and friendly.  Our multi-cultural congregation is from all different walks of life, yet we share a common passion to see Bible truths come alive in our lives.  We believe God is good and He has a plan for each one of us.  When we know God's Word, and experience His love in a personal way; healing, deliverance and victory in Christ can be realized in our lives.
We hope you'll join us for church – we look forward to meeting you!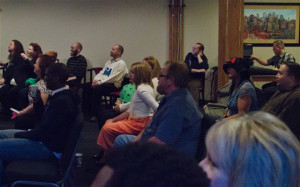 The Congregation
The congregation at 3 Degrees is unique, diverse and distinctive. About 80 percent of the congregation did not originally grow up in the Twin Cities. We are a mix between those that live in the city and walk, bike or use public transportation, and many that drive in from all over the Twin Cities and surrounding suburbs. There is a slightly higher percentage of single adults vs married couples as well as a diverse age range.  Our "city" church represents a little bit of everyone!
The Music
The worship team at 3 Degrees LOVES to praise God and help others enter into the presence of God through heart-felt, Spirit-led worship.  The music style is a little bit of everything from Israel Houghton, William McDowell and Hezekiah Walker to Maverick City Worship, Jesus Culture and Hillsong United.  There is a freedom from Pastors Steve and Nancy which allows for spontaneous aspects of ministry within the worship time.
3 Degrees is blessed to have many professional musicians who serve on the worship team.
The messages
While Pastor Steve's style is practical and down to earth, he believes strongly in presenting the whole range of the Gospel Message. The many Scriptures in every sermon are displayed on the screens for everyone to follow along with, as he desires people to know God and His Word for themselves. He often uses homemade props to illustrate his points and has been known to launch into choruses of 70's music on occasion. A student of the Bible and Bible Prophecy for over 30 years, Pastor Steve loves digging out the nuggets of truth found in Scripture.